When:
15/09/2019 – 21/09/2019
all-day
2019-09-15T00:00:00+02:00
2019-09-22T00:00:00+02:00
Where:
AVANI Victoria Falls Resort
Livingstone
Zambia

The Engineering Institution of Zambia (EIZ) in collaboration with The Federation of African Engineering Organisations (FAEO), WFEO and UNESCO will be hosting the 6th edition of the UNESCO Africa Engineering Week and the 4th Africa Engineering Conference to be held in Livingstone between 15th to 21st September, 2019.
The theme of the Conference is "Addressing the SDGs through Sustainable Engineering Development", and will be aligned with the following specific SDG's:

The event will feature comprehensive technical programmes and presentations with keynote speakers and a vibrant social programme. Among the activities to be held during the week will include but not limited to the following:
Launch of the Engineering Week UNESCO by the Minister of Housing and Infrastructure Development.
Capacity Building Workshop in Engineering Education delivered by ECSA and IEA and IEA
The 2nd Women in Engineering Forum
Joint Career talk (Young Engineers and Future Leaders Forum) for secondary schools in and around Livingstone at AVANI Victoria Falls
Skills competition –At LIBES in Livingstone
Engineering EXPO at AVANI Victoria Falls Resort in Livingstone
Branch career talks in all EIZ Branches in Zambia
Engineering Open days in Lusaka, Kitwe and Livingstone
The Conference is expected to attract about 1,000 participants providing an excellent opportunity for exchanging of ideas to the engineering fraternity in Africa and beyond and the hosting Institution in particular.
Due to the wide range of issues to be discussed, the conference is of interest to engineers, consultants, educational institutions, industrialists, manufacturers, economists, development specialists, policy makers, Government bodies, Students and society in general.
The Sub-Themes for the Conference will be:
Demonstrating engineering relevance to society
Strategic Engineering Outreach
Strategies for responsive engineering curricula
Innovations with impact
Entrepreneurship in the engineering sector
Diversity and inclusiveness in engineering
Engineering in the Fourth Industrial Revolution (Industry 4.0)
Engineering practical skills transfer schemes
Engineering practice in the globalised environment (Standardisation, ethics and quality assurance)
The main objective of this conference therefore, is to draw attention to the current diverse challenges that impede sustainable engineering development in Africa and to consider the prospects for adequate, reliable and sustainable development of this invaluable discourse.
Informed persons and organizations in the discipline from all over the Globe will be brought together to interact, share experiences and ideas and brainstorm on how to strategically and pragmatically confront the problem of addressing the SDG's through sustainable engineering development and come up with feasible, economically viable and sustainable solutions.
For registration, submission of abstracts and any other information, kindly visit http://aewconference.eiz.org.zm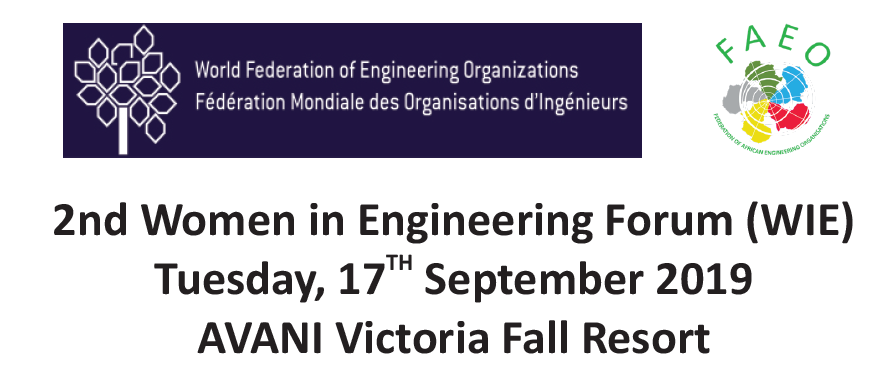 During the Africa Engineering Week (AEW) WomEng will host second Women in Engineering Forum on Tuesday 17th September 2019 at the AVANI Victoria Falls Resort in Livingstone-Zambia.
There is a global effort to build and enhance the capacity of women generally in order to participate in the Social and Economic development of nations.
However, greater effort is needed to enhance the participation of women in Engineering and Technology in various fora for Leadership and Technological advancement.
The need to empower Women in Engineering and Technology and encourage equal opportunities for professional development and achievement to the WFEO and the society at large led to WIE Committee been set up. This was to help increase the visibility and participation of women engineers within WFEO while also helping to boost their capability and leadership skills to achieve a high level of commitment, competency and responsibility towards the society.
The theme for the second Women in Engineering Forum is "Leadership & Empowerment: SHIFT UP! OWN THE FUTURE".
The Sub-themes for the Forum will be:
Innovation
Diversity & inclusion: building Allies
Seize opportunities: think smart

Self-employment
Entrepreneurship
UN, WE & SDGs

Celebrate women
For more information:
 Engineering Institution of Zambia (EIZ) website
 Federation of African Engineering Organisations (FAEO) website
Please follow and like us: